A new wave of French dive watches
To explore the ocean depths or play in clear blue pools, French dive watches are perfect for taking the plunge. These watches are solid, practical and functional, but also stand out by their excellence and sports design. A themed collection of 12 watches à la française.


France is a nation of seafaring, underwater exploration, and also watchmaking. It represents a rich tide of expression in terms of dive watches. French watchmaking was born in the 13th century in Paris, before putting down roots in the French-Swiss Jura region. Today, French watches stand out by their excellence and creative independence. In 2020, UNESCO granted them worldwide recognition by registering French and Swiss craftsmanship in mechanical watchmaking and art mechanics on the representative List of the Intangible Cultural Heritage of Humanity.

As a perfect example of a tool watch, divers' watches were developed in the 1930's mainly in response to military needs. Watchmakers faced sizeable challenges to ensure their mechanical watches were waterproof, corrosion-resistant, and able to withstand pressure underwater. Strong codes emerged, such as the use of large cases, highly-legible dials, most commonly using a dark background and light hands. The famous rotating bezel was developed in the 1950's, capable of measuring time spent underwater, to improve the safety of diving which had become recreational. The required attributes of divers' watches were officially specified in the 1980's by the ISO 6425 international standard. For example, the requirements include water resistance at 100 metres depth, visibility at 25 cm in total darkness, resistance to temperature changes, a measuring system to indicate the diving time and strap offering traction strength equivalent to twenty kilos.

Today, French dive watches express the breadth and excellence of the genre – dedicated to professionals, 100% French, innovative, technical and of course remarkable due to their luminescence. Enough to stimulate the desire for a boost of adrenalin or elegant French sports-chic.
Military and professional collaborations
Collaborative projects between military organisations and their suppliers, including watchmakers, remain strictly confidential with a few exceptions. Amongst them, the JB200 by Marseille-based Jacques Bianchi was supplied to the French navy in the 1980's. Today the piece is very sought after and occasionally re-issued. The Ralf Tech brand has built its reputation by supplying multiple special forces units, including the French navy Hubert Commandos. Its WRX Electric Petrodive - built for the eponymous expert in underwater work - remains watertight down to a depth of 1000 m. MAT Watches is a specialist in military watches, notably the French Foreign Legion and the GIGN special forces. It produced its Compressor model in the colours of France's sea rescue organisation, SNSM.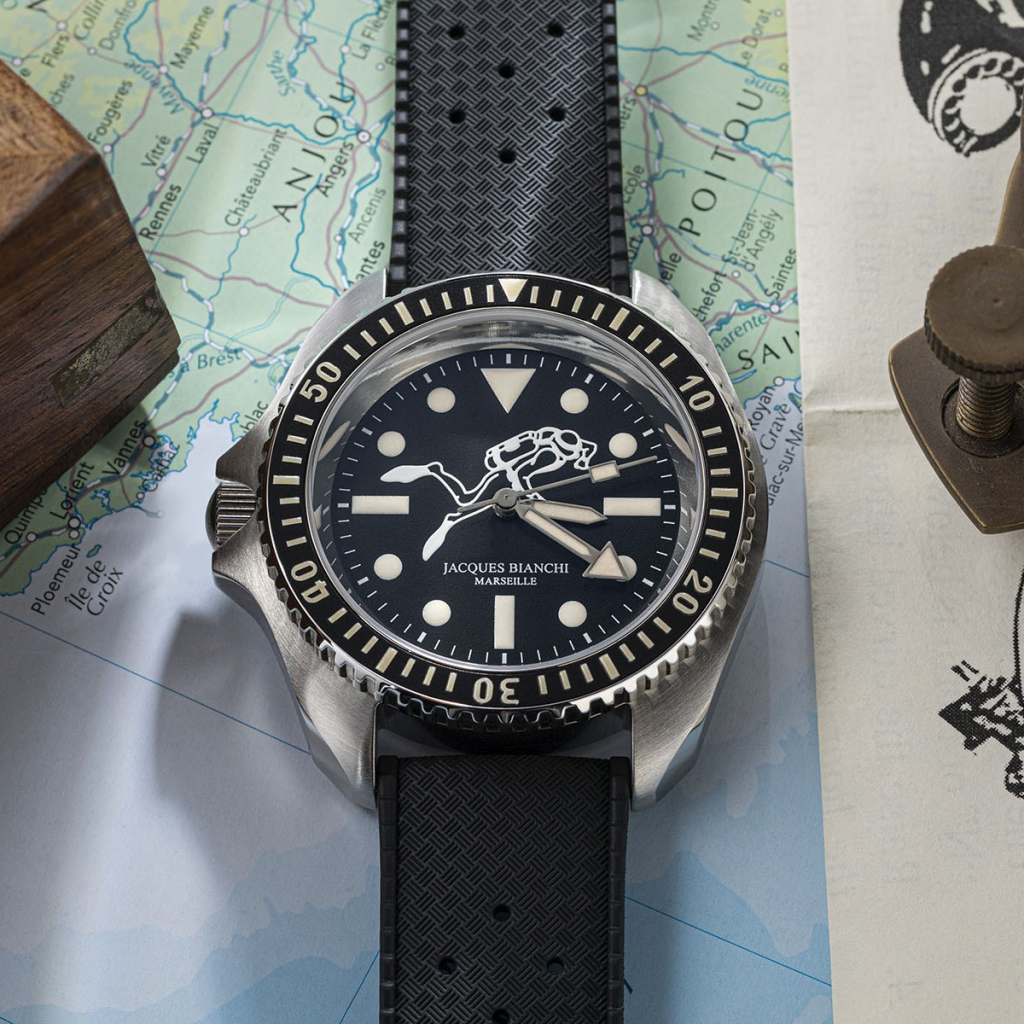 100% French movements and constructions
Pequignet stands out as an exception: this French maker of high watchmaking designs and build its own movements internally, including the «Calibre Royal» of the Pequignet Royale Extrême 300 – very reliable with its 88 hours of reserve power. Ralf Tech owes it the automatic mechanical movement of «The Beast», which is watertight to a depth of 4000 m. Another totally French movement is the recent automatic France Ébauches, which Akrone has earmarked for its C-02 Heritage collection, a homage to the divers' watches of the 1950's planned for release in late 2023. The solid base models of the C-02 collection also meet the requirements of the ISO 6425 standard. Lastly, Humber-Droz has equipped its HD9 Atlantic with the G100 movement produced in Switzerland - by its partner La Joux-Perret - but fully assembled by watchmakers in the company's family-run workshop in Besançon, France.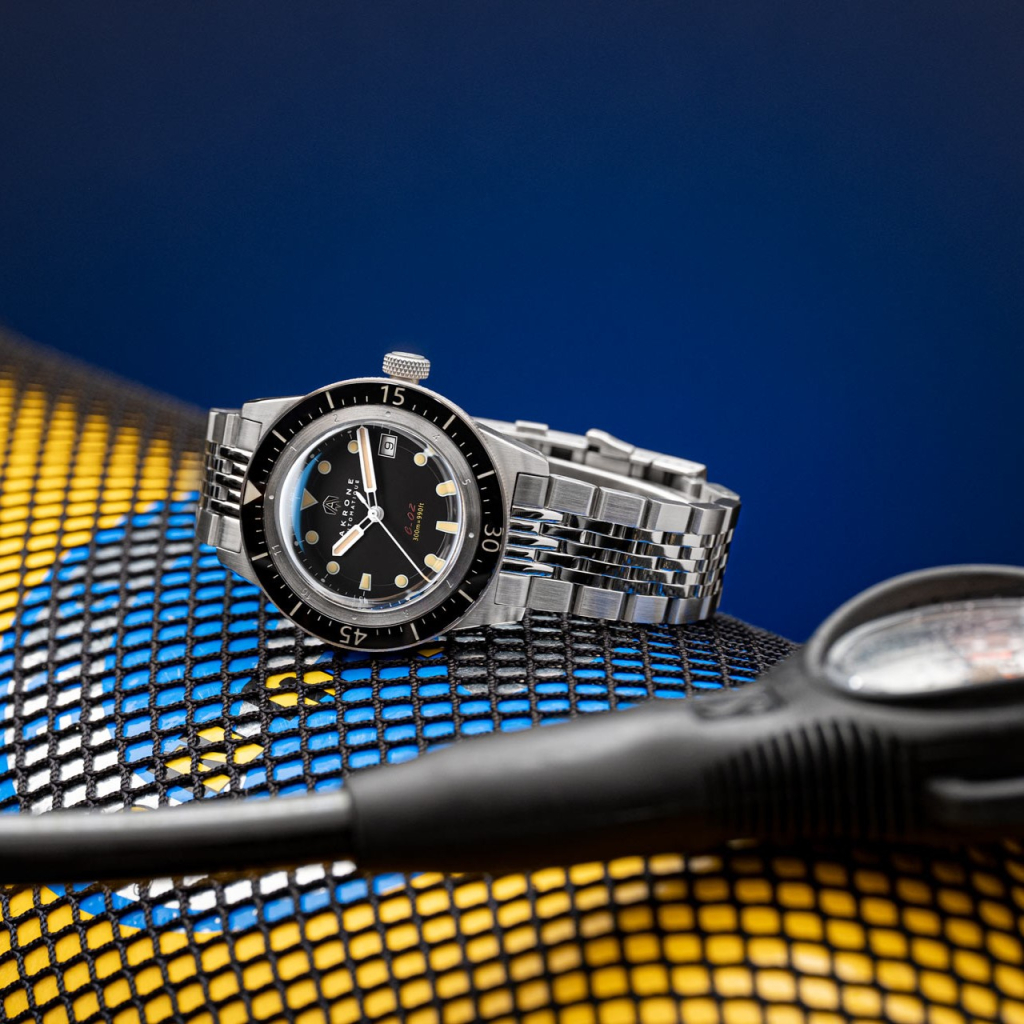 Cushion-shaped Case
In their quest for watertight performance, watchmakers - successfully - explored the possibilities offered by cushion-shaped cases. Herbelin, a watchmaking house founded in the French Jura region in 1947 and which remains independent, selected this curved case form for its Newport Diver Automatic, which is watertight to 300 m. Its lines reflect fashionable models produced by the company in the 1970's. Similarly, Briston chose a cambered square for its Clubmaster Diver Pro collection, made of brushed or polished steel, or in a highly original black or brown acetate.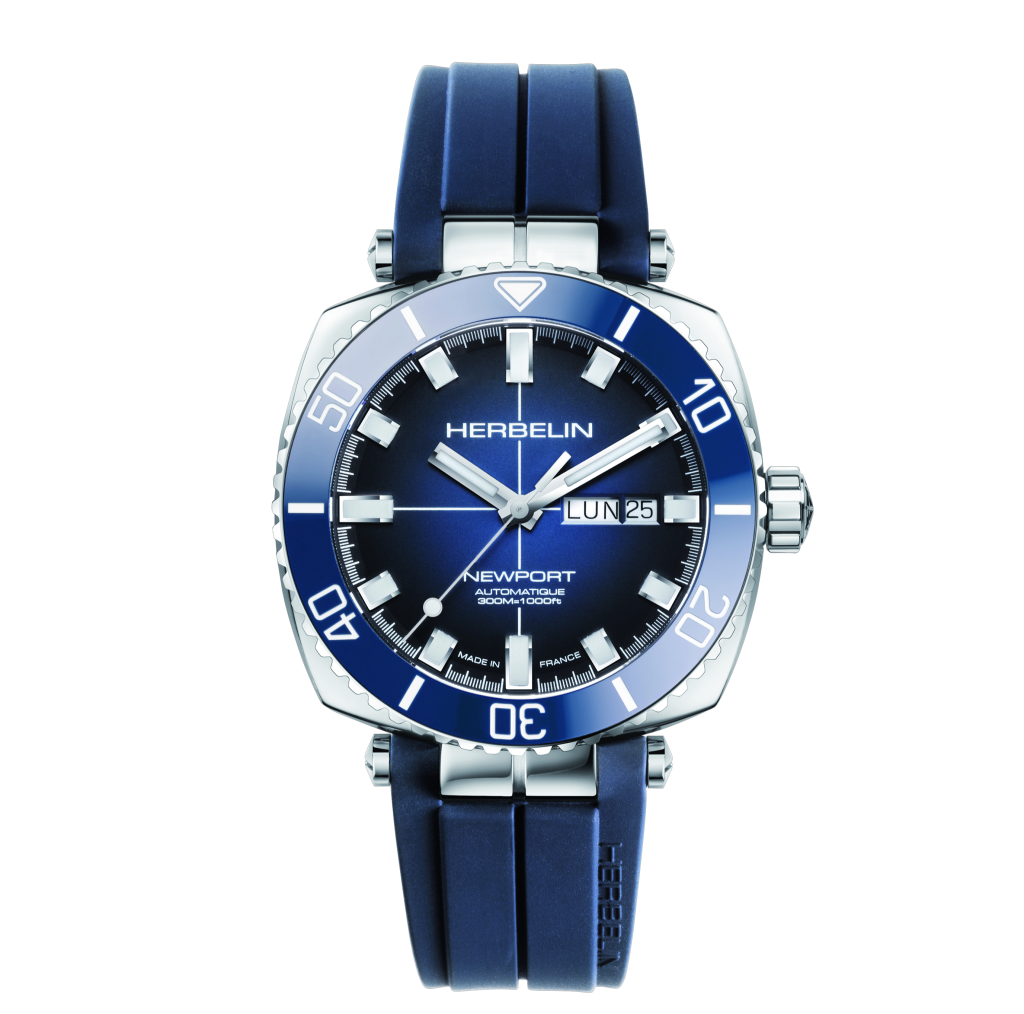 An internal bezel to measure time
To measure the time spent underwater, two «schools» use different methods: the external bezel and the internal bezel - which is rarer than the former. This construction offers the essential component additional protection, by preventing accidental impacts and handling. All adjustments are made using the second crown. On the Baltic Aquascaphe Dual-Crown watertight to 200 m, the crown positioned at 2 o'clock and unscrewed, can be used to make adjustments even underwater. LIP made the same choice for its Nautic-Ocean – worn by great sailors such as Eric Tabarly and the teams of Commander Jacques Cousteau. The recent 7th Continent version features a strap made of recycled plastic retrieved from the Mediterranean.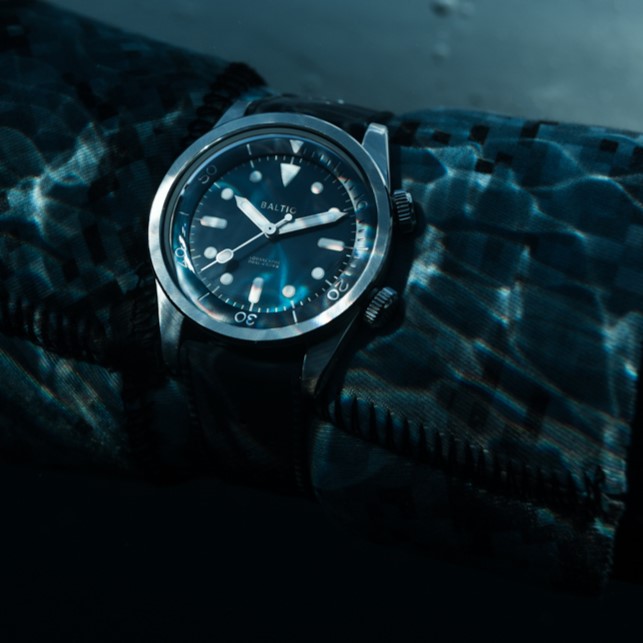 Indispensable luminescence
The information displayed by dive watches must be visible in the deep dark depths. To make this so, watchmakers use materials which store light and release it in the darkness, with the luminescence of blue light being the most efficient. The Morteau-based house Yema covered all the dial of its Yema Superman Maxi Dial Full Lume – which also features its YEMA2000 in-house movement – with the highest-performing Super-Luminova BGW9 Grade A coating. The pressure gauge, an indispensable instrument for diving, inspired Reservoir to build the daring design of the Hydrosphere Air Gauge. Its dial is fully lit in the darkness and a helium valve makes its case exceptionally technical.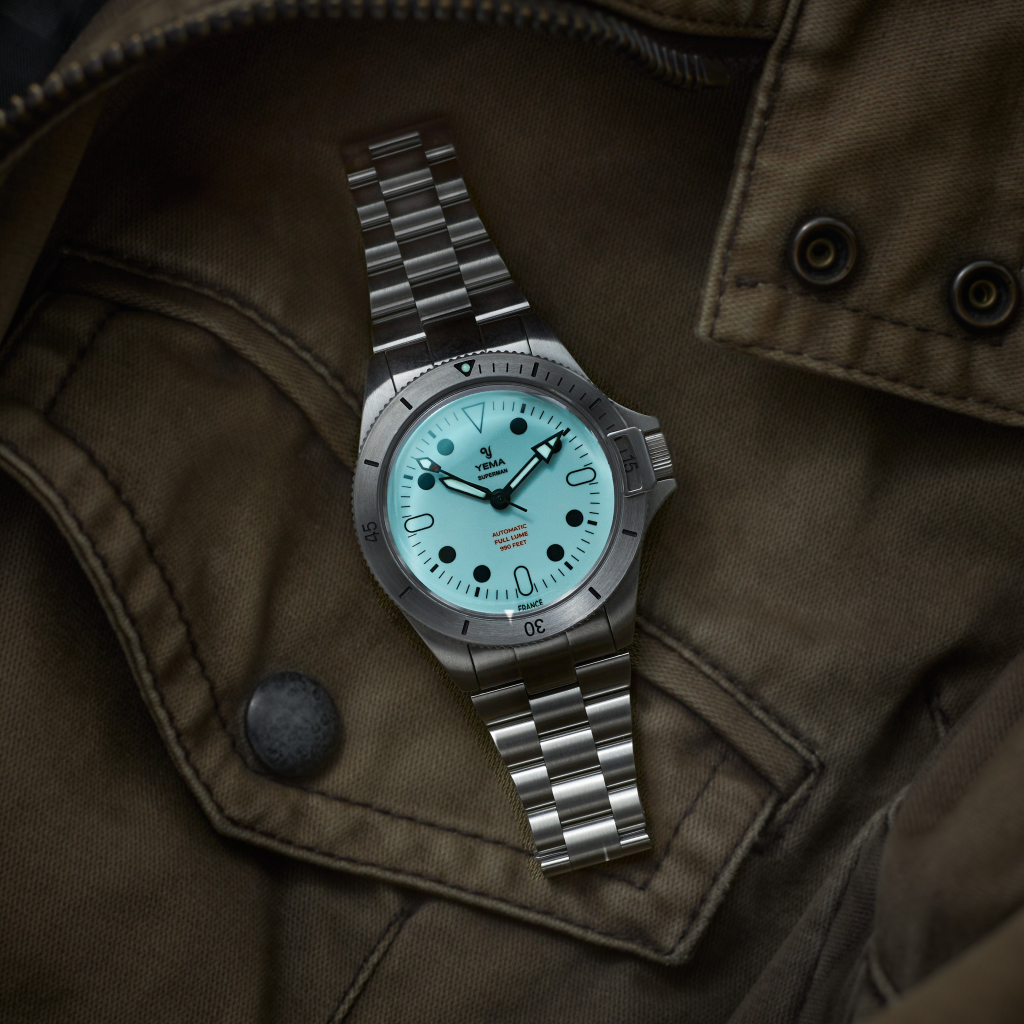 French divers' watches: an ocean of technical and aesthetic features
Each divers' watch created by French craftspeople features its own array of technical and aesthetic features, along with a strong personality associated with the history of each house. Just like aquatic sports, these tool watches bring a great deal of pleasure. On your wrist, they stand out (and are noticed) by their powerful beauty, developed through the requirements for deep water use.
Watchmakers continue to respond to the desires of public wearers and professional users, by improving the performance and design of their watches in multiple ways: solid cases with remarkable watertight performance, developing innovative systems to secure bezels and crowns, straps with quick-adjustment diving extensions, or the use of new materials.

All that remains is to test the favourites under actual conditions, why not in the ocean or seas that surround France, a country where underwater exploration and watchmaking excellence complement each other perfectly.
In its aim to accelerate the development of French watchmaking, jewellery and tableware, Francéclat studies and understands markets, drives creativity, stimulates innovation and brings the right people together to boost their international reach.