Silver: the new shining light in French jewellery
Modern, unisex and refined, silver is a firm favourite with jewellers. But it's taken a lot of hard work to get there. Too malleable in its raw state to create jewellery, a special alloy was created: 925 silver. Known as "sterling silver" in English-speaking countries, or "solid silver" in Europe, it is something of a goldmine. Three jewellery houses have made this lunar metal their own. First of all, the STATEMENT brand that produces rhodium silver jewellery designs; followed by Signe Particulier whose jewellers work with this metal according to age-old traditions; and finally Le Gramme that takes jewellery conventions and combines them with industrial techniques. Find out more about these stunning collections.
STATEMENT: all about rhodium silver
STATEMENT is a jewellery house founded by Amélie Huynh. Convinced that rhodium silver could be used in jewellery, Amélie Huynh was a trailblazer in working with this material. STATEMENT was also one of the first jewellery houses to set silver with natural diamonds. Why this material? Rhodium silver is silver that has been plated with rhodium, the world's most expensive metal. This method enhances the shine of the silver and prevents it from tarnishing, whilst still allowing it to gain a patina over time.
Associated with the Moon, mystery and femininity, this is the only type of silver used by Amélie Huynh. Her modern and sophisticated designs combine Art Deco geometry with Decopunk, so that women can feel like their jewellery is armour rather than finery. The Maison's iconic piece is its very first design: the My Way Diamonds & Silver ring. Now a classic, its contours form a rhodium silver motif set with 161 natural diamonds where the symmetry of Art Deco blends seamlessly with futuristic chrome. Designed to convey self-confidence, this ring is best worn on the index finger, the finger of strength and determination.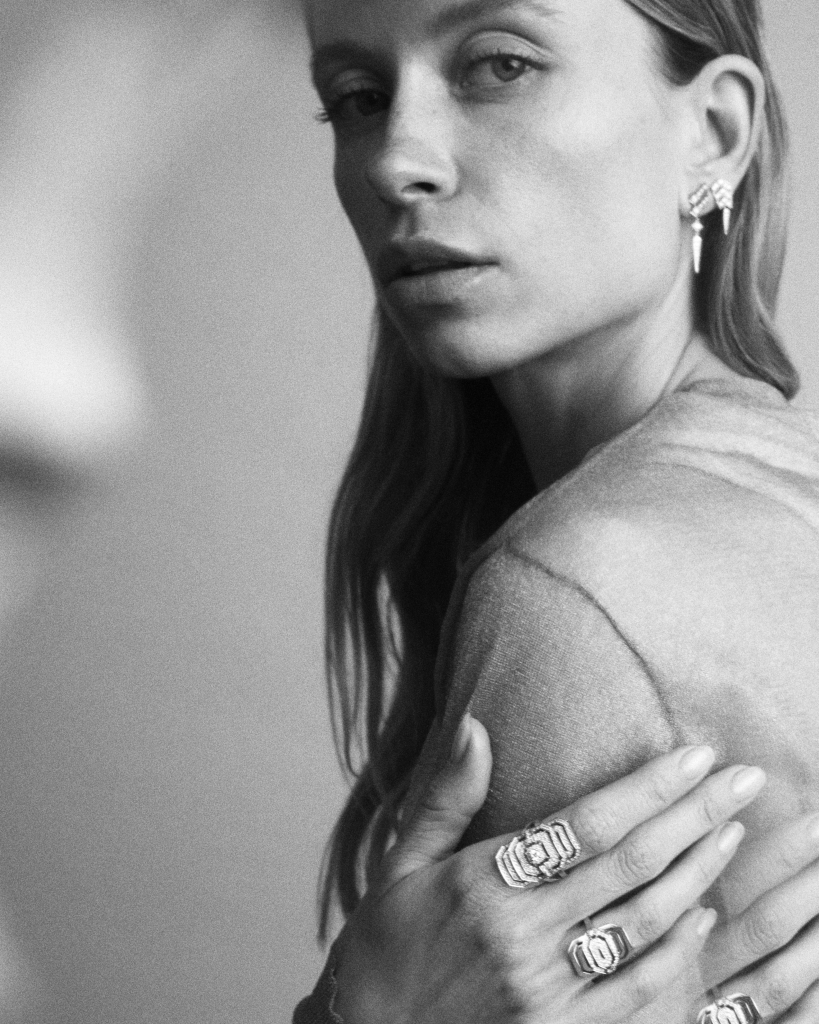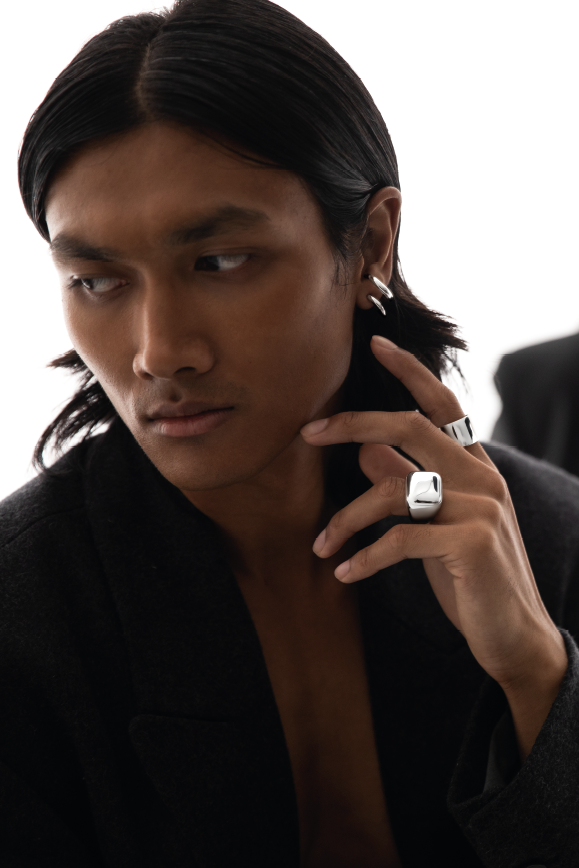 Signe Particulier: the hallmark of Sterling+  
Signe Particulier stems from a collaboration between four designers: Romane, Lilas, David and Sanam. United in their quest to cater for fans of solid silver, they spearheaded the use of Sterling silver+: an exceptional alloy enriched with germanium, whose properties lend brilliant shine to the jewellery. Each piece is passivated to bolster the protective barrier against oxidation. This treatment ensures the designs are highly resistant to tarnishing and scratching.
What does a piece of Signe Particulier jewellery look like? Our four designers have created a collection boasting curves, symmetry, organic and deconstructed lines, with each piece moulding perfectly to the body. See the voluptuous Hepburn necklace, for example. Everything originates from an opulent strand that curves, coils and transforms into an endless loop that bonds the metal with the skin. A highly personal and generously sized piece that becomes at one with the wearer.
Le Gramme: industrial influence
Le Gramme is a men's jewellery brand with each item named after its weight in grams. The brainchild of Adrien Messié and Erwan Le Louër, designer and founder of the Jewellery Ethically Minded (JEM) brand, the designs are based on simple, understated lines with an industrial feel.
The use of sterling silver therefore comes as no surprise. Keen on natural patina, Le Gramme chooses to work with untreated silver to accentuate the contrast between light and shade.
The Maison has had one watchword right from the outset: minimalism. Its "ribbon" bracelet is one of its best-sellers, to wear on its own or in different combinations. Eye-catching and elegant, its deceptively simple design goes through no less than 17 production stages. The customisable bracelet can be engraved, accentuating the unique and personal feel of this design to wear for any occasion.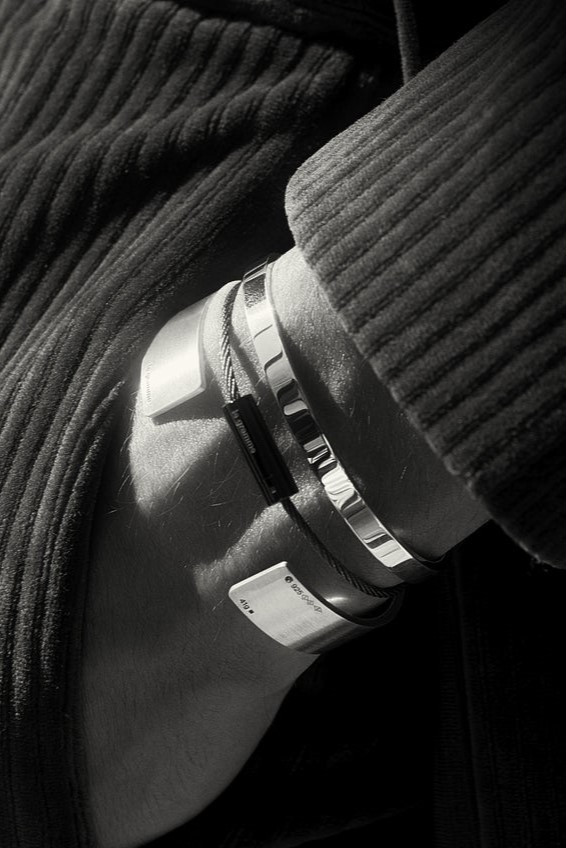 Seeing these jewellers enjoying great success with their designs demonstrates how they are onto a winner with silver. Refined, luxurious and versatile, this material has now gained a foothold in jewellery design thanks to the exceptional expertise of these French craftsmen. And one thing is certain: it still has a lot more up its sleeve.
In its aim to accelerate the development of French watchmaking, jewellery and tableware, Francéclat studies and understands markets, drives creativity, stimulates innovation and brings the right people together to boost their international reach.